WELLNESS WEDNESDAYS
The April 2013 issue of O, The Oprah Magazine, fell into my hands by accident while helping my mother celebrate her birthday this week.
After all the guests had left, mom came out to the kitchen where I was working, holding several new magazines in her hands. She asked, "Do you know where these magazines came from?"
Then she answered her own question with the realization that her longtime friends, Peggy and Cyrus, who had driven more than 2 hours from their home in central Indiana to attend the party, had left them for her.
Mom encouraged me to dive into The Oprah Magazine while I was visiting and I took the bait.
Why?
A cover story: "What does the ultimate food expert make for dinner?
Breaking bread with Michael Pollan" plus Dr. Oz talking about belly fat.
Belly fat AKA visceral fat is the most dangerous kind of fat.
Michael Pollan is the author of best-selling books including Food Rules, The Omnivore's Dilemma, and In Defense of Food.
S
omething he said caught my attention: "I started to realize that cooking might be the most important factor in fixing our public health crisis.
People who cook eat healthier diets.
And this whole renaissance of farmers' markets and community supported agriculture that's going on right now-these are economies we should support, and they depend on cooking.
It was the missing link I needed to explore." It is the link we have been exploring in our educational programs for several years.
Teaching kids and parents the essential elements of how to eat healthy by sharing with them how easy it is to prepare foods that are good are you has been integral to the mission of the Growing Healthy Kids movement since we began this work four years ago.
Americans didn't gain millions of extra pounds of weight eating plant-based foods. No, the extra pounds can largely be attributed to the extra calories, fat, and sodas that companies created to make our lives easier.
Not healthier, but easier.
The explosion of fast food restaurants, with their abundance of cheap, highly processed foods have stripped Americans of basic kitchen skills and the confidence necessary to put a healthy AND economical meal on the family table.
If Americans knew how much money is spent by these large companies to create foods and flavors that are addictive, they would rebel.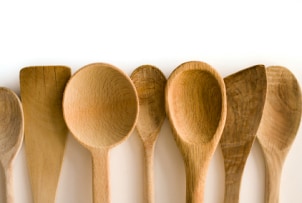 Wood spoons (I prefer cherry) are
among my favorite kitchen tools.
What is your favorite?
What I have learned from teaching is that

IT IS EASY TO EAT HEALTHY FOODS…when you know what to do.
We teach people what to do. P
arents can start with the Twenty Tips found in the bestselling Growing Healthy Kids project book, NOURISH AND FLOURISH, based on our educational programs.
With the numbers of children at unhealthy weights causing more and more kids to be at risk for obesity-related diseases, such as Type 2 diabetes, learning how to cook is integral to reversing this epidemic that, if left unabated, will cause our children to have shorter lives than us.
Learning how to eat – and cook – real food is essential if our children are to have a chance to be healthy, smart, and strong.
Here are 3 reasons why Growing Healthy Kids' educational programs empower kids and parents to eat real food:
We include basic kitchen skills and techniques in every class.

We encourage people to try new foods and flavors in our demonstrations using locally grown foods from local farmers.

(Heck, sometimes we have classes at the farmers market!)

We teach how to use everyday kitchen t

ools.
For a healthy breakfast idea to help you burn fat and be a great role model for your kids, here's a recipe from Dr. Oz I found in the April issue of O:
1/2 toasted whole grain English muffin

2 teaspoons olive oil

1/4 ripe avocado

1 slice Swiss cheese

1 slice tomato

1 egg, poached

Ground black pepper, to taste
Drizzle olive oil over the English muffin. Spread the avocado on the muffin and layer with a slice of Swiss cheese and tomato. Place the poached egg on top and sprinkle with pepper, if desired.
Founder, Growing Healthy Kids